How The Pros Buy Wholesale Zippers In Bulk Online
Posted Monday, March 09, 2020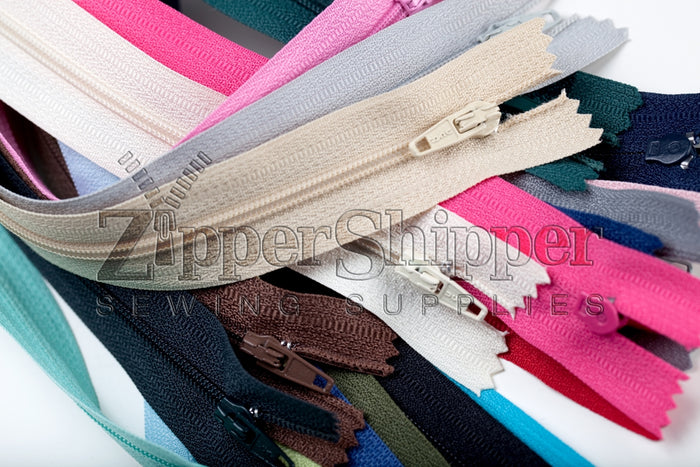 After a frustrating and costly trip to a retail store, have you ever stepped back and said to yourself: "there has to be a better way!"
For some folks who use zippers for sewing only very occasionally, buying items individually might be fine. However, there are others who take sewing to the next level and find themselves going through zippers like it's their job, whether it actually is, or it just feels like it!
At some point it becomes much more cost-effective to buy wholesale zippers in bulk online. Sewing professionals purchase their wholesale zippers in bulk all the time. We love helping pros with their sewing supplies needs. Customers who may not consider themselves sewing professionals can also join in the wholesale zipper fun, whether designing pillows for a local crafts fair, creating a new fashion line, or prototyping their next invention.
What Are Wholesale Zippers?
Ordering zippers wholesale basically means buying them in larger quantities, usually to be used in items that are going to be re-sold. Examples could include pillows, jackets, zippered pouches, and bimini tops, just to name a few!
Why Buy Wholesale Zippers?
1. Price

The first reason is simple: price. The prices of zippers at retail stores are significantly higher than ordering in bulk. That $8 Coats and Clark zipper you see at a retail store might well have a similar (or better) counterpart available online closer to $2 when ordering in bulk. The price difference can be quite eye-opening!
The quality of the wholesale zippers found at Zipper Shipper Sewing supplies is another important reason to buy your zippers wholesale and online. The zippers offered with bulk discounts on our website are sourced in the USA and are the finest quality we have found.
2.Quality
The zippers you source here will bring added durability to your sewing projects. Additionally, whether designing clothing, doing manufacturing runs, or getting your craft on for your Etsy store, you are responsible to your customers for the quality of the product you put into their hands. Customers notice a difference when a cheap zipper is placed in an otherwise fantastic product. Lower your return rate and increase the perceived value and quality of the items you're producing by including a robust zipper.
3. Convenience
Finally, when you're doing volume, the last thing you want to do run to the store all the time. By ordering your wholesale zippers in bulk, they will be delivered by mail to your door. How convenient is that?
Which Quantities Qualify For Wholesale Pricing?
The quantity needed to qualify for a wholesale zipper purchase will vary by item. Typically items purchased in quantities of at least 10 pieces will qualify for a quantity discount. Your zips must be the same color and length to have the discount applied. Some items will be further discounted at quantities of 50 or 100 zippers.
If you are looking for a much larger quantity, we may be able to arrange further bulk discounts on a case by case basis.
How To Order Zippers Wholesale In Bulk
Ordering wholesale zippers from Zipper Shipper is simple: just find the item, pick your selections (for instance color and length), enter your quantities and add them to your online shopping cart. The discounts for ordering at the specified quantity thresholds will be automatically applied.
It's super easy, and no separate wholesale account is needed.
Types of Zippers Available With Wholesale Bulk Discounts
Handbag zippers
Metal zippers
Nylon coil zippers
Invisible zippers
Heavy duty separating zippers
Closed-ended zippers
Zipper chain by the yard
And more!
Our family has worked in the sewing trade for over six decades, and we feel it is extremely important to service our wholesale customers with top quality items. If you have any questions, feel free to reach out: info@zippershipper.com.