Account holders - you may see some discrepancies in your account's order history at the moment, we are aware and are working on fixing these. Thank you!
We have a new look! New website, same Zipper Shipper.
Contact Us: 1-800-344-6136 | info@zippershipper.com
A Zipper Replacement guide
Whether you need a 23 inch zipper, a 9 foot zipper, or something even longer (or shorter), we are your source! Read on to hone in on your perfect zipper.
For those who are new to the world of zippers, there are 6 important pieces of information you need to know to find your perfect zipper. The guide below walks you through all of the relevant information you should gather to find your specific zipper on our website. Once you have all of this information, your zipper should be a cinch to find by navigating to Zippers by Gauge or Zippers by Material !
Continue reading the guide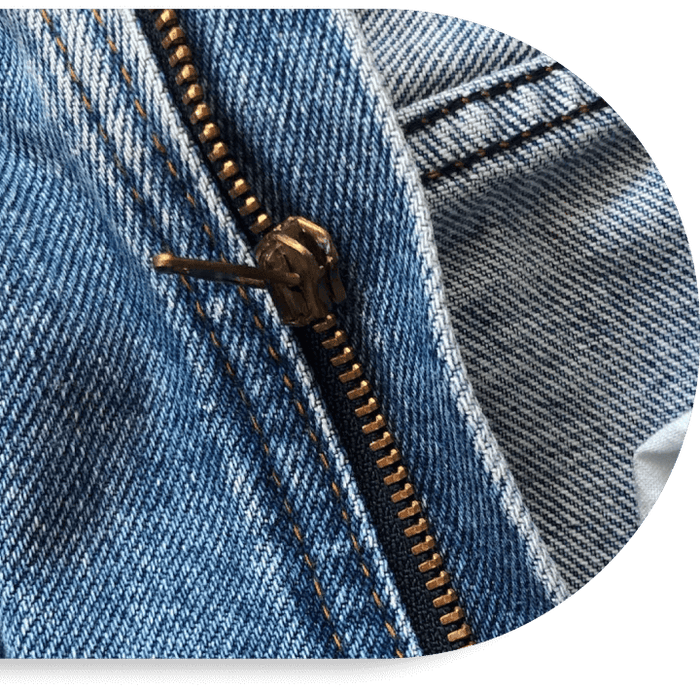 1. Type of Zipper Teeth
Some of them are:
Aluminum Metal
Antique Brass Metal
Antique Nickel Metal
Brass Metal
Copper Metal
Invisible (hidden teeth made of nylon coil)
2. Gauge
The number of the gauge corresponds to the width of the zipper teeth, in millimeters, when the zipper is zipped. The larger the number, the more heavy duty the zipper.
The gauges we currently stock are:
#2 (Invisible Zippers Only)
#3 (Most common gauge for skirts and dresses)
#4
#4.5
#5 (Most common gauge for women's jackets and men's lightweight and medium weight jackets)
#7 (Antique Brass Zippers Only)
#8
#10 (For tents, sleeping bags, and heavy duty coveralls and men's coats)
3. Separating or Closed-Ended
There are two "bottom types" of zippers that we carry. Separating zippers have a pin and box at the bottom, allowing the zipper to separate fully into 2 pieces. An example of a separating zipper is a jacket zipper. Closed-ended zippers do not separate. An example of a closed ended zipper is a zipper in the fly of a pair of pants.
4. One-way or Two-Way – How many sliders (pieces that move up and down the tracks) are on the zipper.
Most zippers have one slider and are therefore one-way zippers. On the Zipper Shipper website, we simply refer to this as a zipper and don't describe it as "one-way." However, some zippers have two sliders and are therefore called "two-way zippers." An example is a zipper on a longer jacket or coat, which can unzip from the bottom when the person wearing it is sitting down in order to allow room for their legs to move around more easily. Zippers for coveralls are often two-way zippers as well.
Note about 2-way zippers for bags or backpacks which have 2 sliders that open from the middle:
At this time, we do not carry ready-made zippers in bag-style configurations that have 2 sliders that open as you pull them away from the middle. However, you can create a zipper like that from our zipper chain by the yard and corresponding sliders. You would attach your sliders yourself in the configuration you wish to have. Nonlocking sliders are typically used for bags. You can use nylon or plastic zipper chain (nylon takes curves the best, but either are feasible). Here is a link:
https://www.zippershipper.com/collections/zipper-chain-by-the-yard
5. Color
The color of the polyester fabric on the sides of the zipper.
6. Length
How long the actual opening of the zipper is.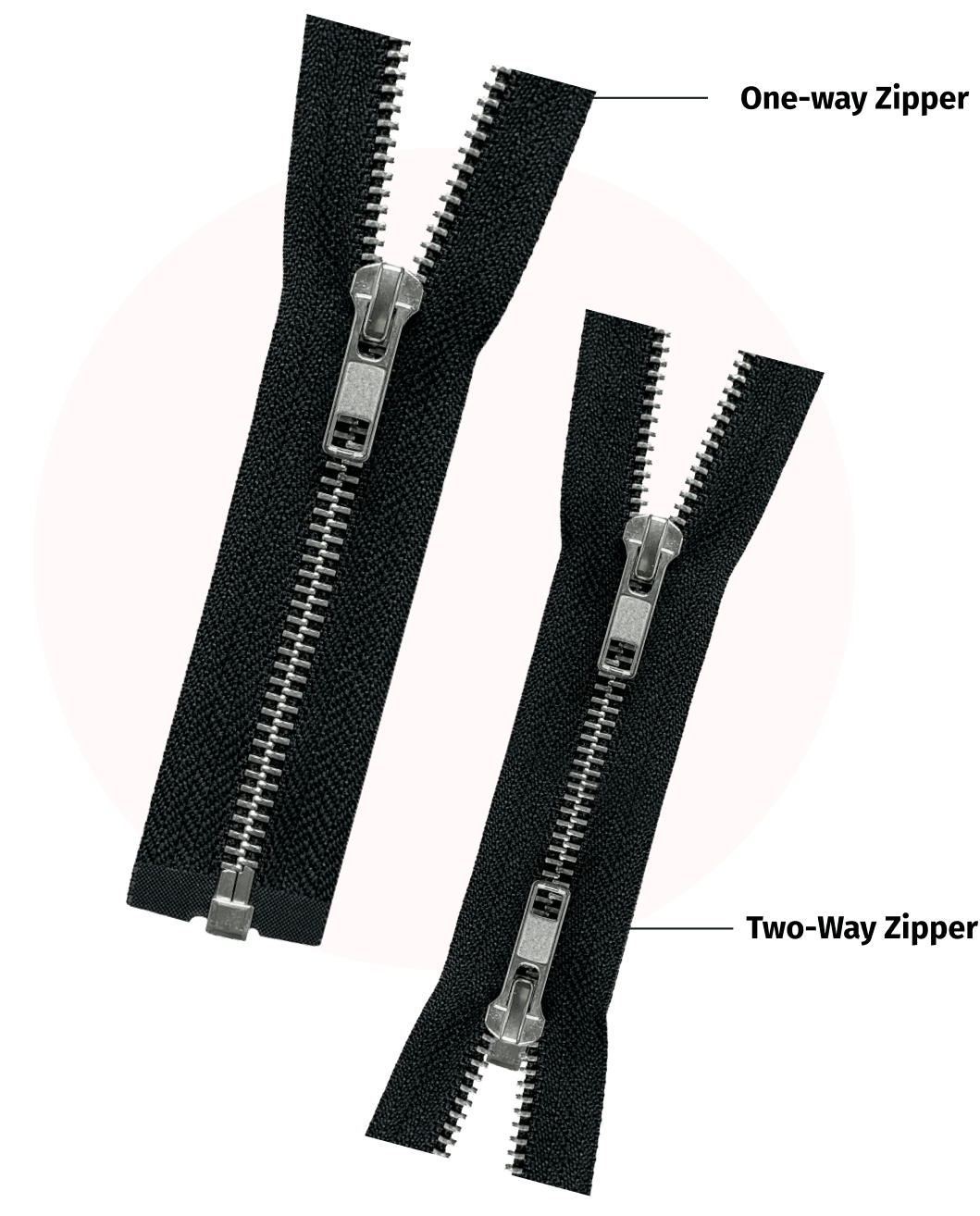 More on Zipper Lenght
Zipper Shipper Can Supply Virtuallly Any Custom Lenght Zipper
Most of the time, all of the above factors can be flexible. For instance, if you can't find the perfect zipper with antique brass teeth, a zipper with brass teeth or even molded plastic teeth can be used instead. Also, any bottom separating zipper can be converted to a closed-ended zipper by sewing over the bottom. The one specification for a zipper that usually cannot be flexible is the length.
Looking for a zipper in a specific lenght?
We stock a huge variety of zippers, and, in most cases, carry many different lengths of each type. Zippers are like people though; they come in all different lengths! You could be looking for a length that we do not keep in stock. If you need a length that we do not stock, however, have no fear….
Any Shipper Can Be Shortened!
If you do not see the length you need listed, you can choose to have the zipper shortened for you to your custom length. Just type your length in the "shorten to" field and we will shorten it for you. This shortening service does have an additional fee which you can see when you are on the zipper's product page. Some customers order zippers from us "off the shelf" in stock lengths and then shorten the zippers on their own.
*If you are interested in ordering 100 pieces or more of a non-stock length or color, you can request a quote for custom zippers. No shortening required, however minimums and lead times apply.
Zipper Lenghts Supplied by Zipper Shipper
A more general search for zippers can always start on our home page. And if you have more questions about our company's services, please check the Frequently Asked Questions.
Thank you and happy zipping!